Residency in Orbit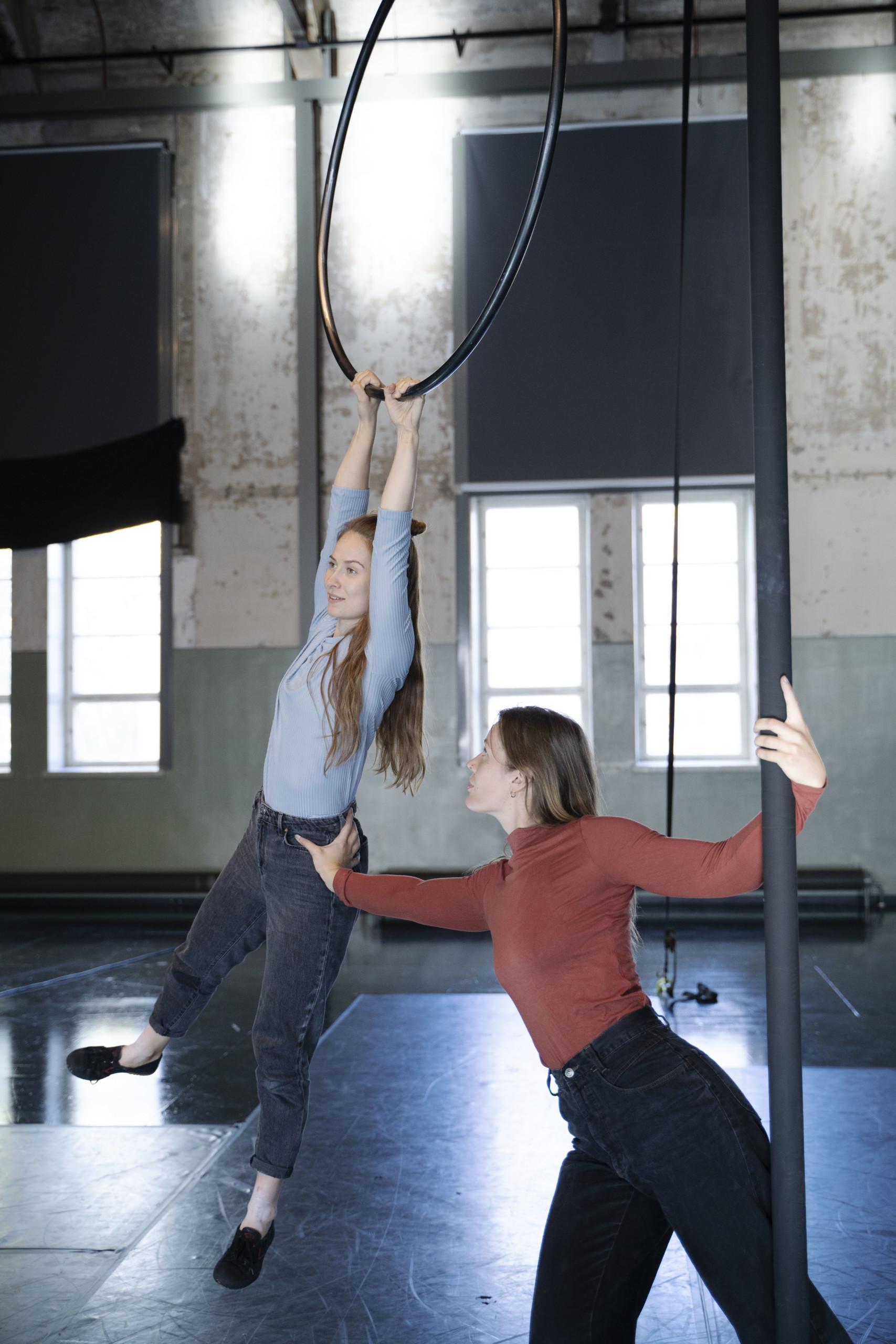 Saana Tolonen and Carina Klingsell worked on their new project with the working title Orbit in Cirko's residency in late September. The performance is being created around the two props, Chinese pole and aerial hoop, that are attached together with a spinning top. They have been researching ways to move and connect and have been searching for what possibilities this new situation brings. In their duet the simple interaction between them, the audience and the objects is in focus.
You are first-timers at Cirko's residency – how has the experience been so far?
It has been great! We have both felt that it's been a very nice place to work and be at. Everyone has been so open and welcoming and it has felt so good to feel a part of something again. Also just the space in itself has been so great to rehearse in. It felt like everything was possible.
What is your main focus during the two weeks of residency?
These two weeks were the first weeks that we worked on this project. We have worked together earlier but this residency marks the start of this new creation. Our goal when we arrived was to take on our new ideas with a lot of freedom. We started researching what different possibilities there were with our set up and with our disciplines combined and from there got more and more a sense of what the performance will look like.
You are researching interaction between Chinese pole and aerial hoop but also between two of you. Where did the idea of two objects and two people come from?
In our previous creation we were having a lot of props and a big set up and we both were craving a little bit of simplicity. With the disciplines we have it requires quite some things from a venue and we wanted to make that easier, to be more accessible. The set up of the pole with the hoop comes from this wish. Orbiting, circling and continuous movement is something that fascinates us and is what we have been researching these last days. We find that the simplicity of it can be so nice and that it highlights us on stage and our relationship. We want to create in a way where we keep an honest and close interaction with the audience, with each other and with our objects.
How's the Orbit continuing after your residency?
We will continue working with this project in the spring time and we are looking for more residency places and continuation for the project. We want to research more and deeper in the ideas we have developed so far. After the open rehearsal at Cirko we had a great discussion , with those who came to see, that triggered a lot of new ideas and things we will want to play with.
In November we will do a third week of residency in Rotterdam where we will also present our research outcome.
More information about the artists:
Saana Tolonen
Carina Klingsell