Football juggler Simon Llewelyn and the power of play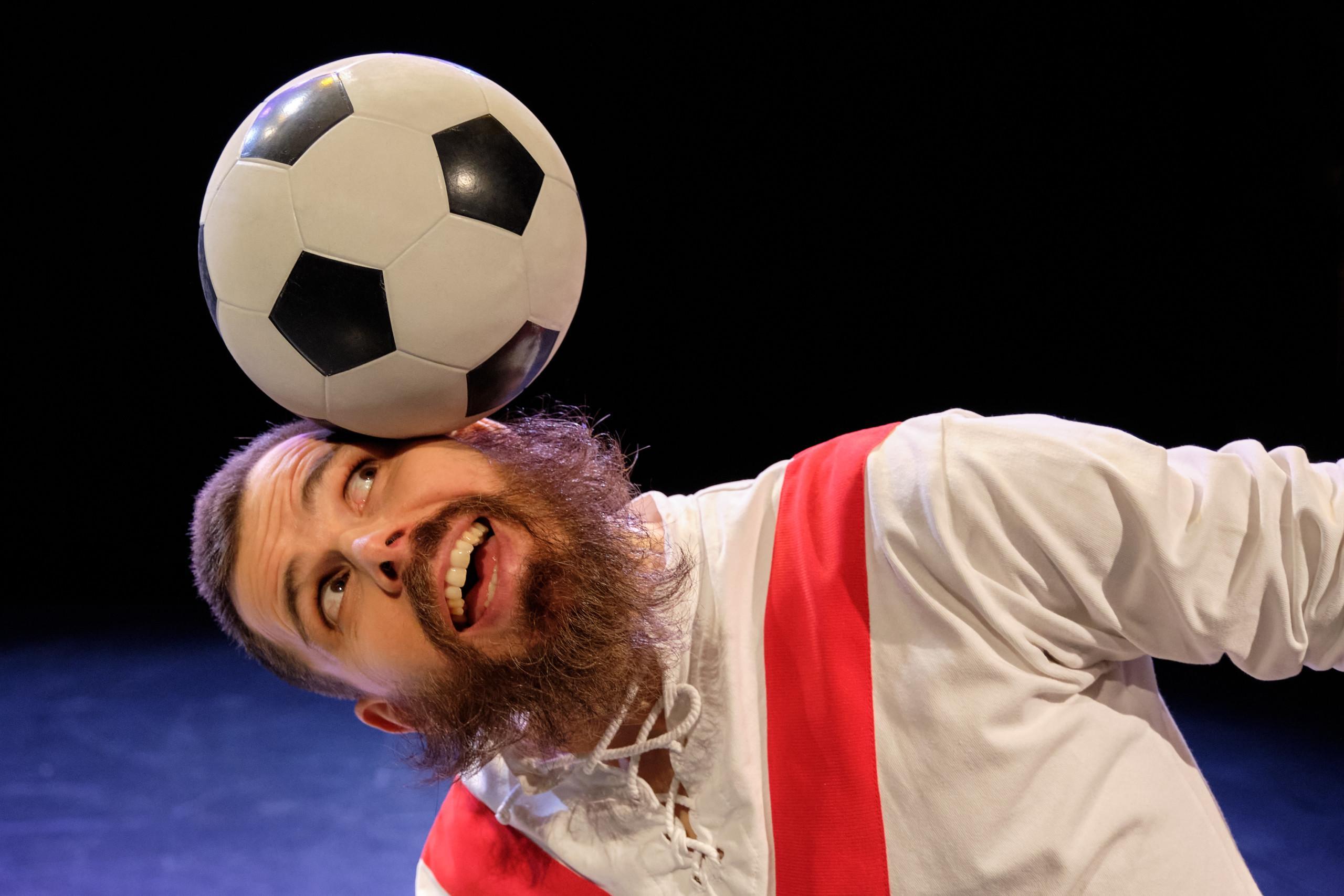 Simon Llewelyn grew up in Belfast playing rugby and football. A growing interest in performing arts brought him to Belfast Community Circus, and later to summer circus camp in America and circus school in Europe. He managed to combine two of his loves and thus began his performance career as a Football Juggler. With his experience he wants to bring laughter and smiles.
Would you first briefly describe yourself as an artist?
I grew up in Belfast, Northern Ireland but now I'm based in Tampere, Finland. I was introduced to circus with Belfast Community Circus. A wonderful organisation to whom I am so thankful for the opportunities they gave to me at the start of my circus life.
I have been creating circus theatre shows for young and old since the early 2000's and had the opportunity to perform across the globe.
I have performed as a solo performer and also incorporated in bigger group productions for indoor cabarets, numerous stage shows and outdoor street theatre performances. I see myself as an entertainer with a love for learning and performing high level circus skills.
How did you become  interested in the field originally? When did you know that you would become a performing artist?
When growing up I was a keen sports fanatic. At home or at school I spent the majority of my free time playing sports. Being from Ireland, rugby was a big part of my time as was football. However with time I noticed there was too much waiting around to receive the ball!
At the same time I had an interest in the performing arts. When I was 16, a circus teacher taught a theatre workshop in my school. After the class he convinced me to come down to Belfast Community Circus and try one of the classes.
The physical demands of learning Trapeze and acrobatics, mixed with the creativity of juggling appealed to me very quickly. I was offered a chance to take part in a summer circus camp in America where I performed in lots of events. The experience had me hooked.
While taking a year out before going to university I saved money and my love for circus grew. There seemed to be no other decision but to delay the degree (which is still being delayed!) and go to circus school in Europe. There my love of football juggling began. Four young men stuck in one house had a mission… Who could spin a football on their finger first. Winner gets a slice of cake… I honestly can't remember who got it first but I think it's clear today that was where my love for football juggling began.
 What have been the highlights of your career?
Some performance highlights:
Palazzo Dinner show, Germany and Austria (Berlin, Hamburg and Vienna)
Circus Flic Flac, Germany (Toured 2019-2020)
Clowns without Borders Ireland tours in Palestine, Jordan, South Africa.
Tallin Fringe Festival, Estonia
The Aarhus Festival, Denmark
Western Australia Circus Festival, Australia
World Busking Championships Dublin, Ireland
Glastonbury Festival, England
Circus Ruska Festival, Tampere, Finland
Festival of Fools Belfast, Northern Ireland
Performed for the Royals of England.
I feel incredibly lucky to have so many highlights. Each performance is different and every audience is unique. From the Spiegel Tents in Germany or the Circus Tents at Circus Flac Flac to the Refugee camps in Palestine, fun and laughter is an energy like no other. No venue too small, no audience too big, I will be there to play.
What inspires you?
My life nearly turned out very different. While in my early professional circus career I had a back injury which made me unable to walk properly for two years. As I recovered, I remember being thankful to be able to walk every day. It was then I noticed that life is too short and too serious.
As we get older we seem to lose the sense of play. I want to bring some of that back. Why should all the children play and not the rest of us? The power of play is a big part of my life. To bring a smile, to explore and have fun. There's no better feeling than to have an impact (big or small) or connect and have a moment together. I think and hope I bring that to my performances.
On a personal note I have a very addictive and curious mind. Wanting to see how things work, to tell a story and learn. Being open to play looking for opportunities to explore and create. What can I do with a football?
What kind of emotions will your audience feel during your experience?
Do you want to be entertained? To feel better and have some fun?  For the short time together let's smile, laugh and let me show you something that makes you go WOW.